Onaqui Sites
| | |
| --- | --- |
| Location: | Tooele County, UT, ~25 miles south of Tooele, UT |
| Land Management Agency: | Bureau of Land Management Salt Lake Field Office |
| Treatment Schedule: | Treatments were implemented in fall 2006. Click here for more information. |
Juniper Woodland Site
Site Manager:
Maggie Gray
Plots:
Four 50-acre core plots (Control, Burn, Mechanical, and 

Bull Hog™

) and two 1000-acre extensive plots (Control and Burn) (View select suplots over time.)
Elevation:
5500-6200 ft
Topography:
2-30% slope, E aspect
Common Vegetation:
Utah Juniper, Wyoming big sagebrush, black sagebrush, bluebunch wheatgrass, Sandberg bluegrass, Indian ricegrass, cheatgrass, and various native wildflowers.
Soils:
Gravelly loam and sandy loam
Fire Regime:
Historically ranging from 20 to >100 years. Woodland invasion suggests that the majority of these communities have not burned since the late 1800s. As woodlands gain dominance, the fire regime shifts to infrequent, high-intensity fires.
Representative Land Base:
Several million acres in western Utah, northeastern Nevada, and southern Idaho.
Grazing:
Plots are located within active grazing allottment and will be fenced for duration of the study.
Sagebrush-Cheatgrass Site
| | |
| --- | --- |
| Site Manager: | Maggie Gray |
| Plots: | Four 75-acre plots (Control, Burn, Mechanical, and Herbicide) (View select suplots over time.) |
| Elevation: | 5400-5500 ft |
| Topography: | 3-4% slope, E aspect |
| Common Vegetation: | Wyoming big sagebrush, shadscale, viscid rabbitbrush, Sandberg bluegrass, squirreltail, Indian ricegrass, bluebunch wheatgrass, basin wildrye, and cheatgrass. |
| Soils: | Fine-loamy |
| Fire Regime: | Historically, several decades. Many of these communities experienced an increased fire return interval with settlement and overgrazing. Cheatgrass invasion can cause larger fires and reduce this interval to 10 years or less. |
| Representative Land Base: | Several million acres in western and central Utah, southern Idaho, northern Nevada, and eastern Oregon. |
| Grazing: | Plots are located within active grazing allottment and will be fenced for duration of the study. |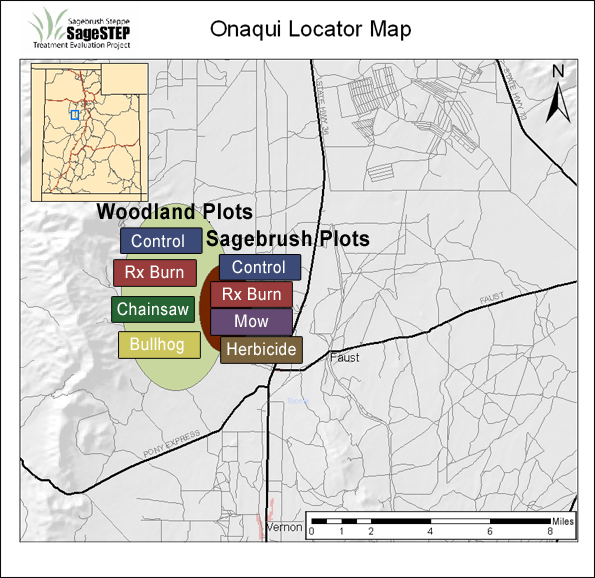 Woodland subplot progress images
Sagebrush subplot progress images
Lisa Ellsworth
Project Co-coordinator
Dpt. Fisheries & Wildlife
Oregon State University
Corvallis, OR  97330
Email
(541) 737-0008
Beth Newingham
Project Co-coordinator
GB Rangelands Research
USDA Ag. Res. Service
Reno, NV 89512
Email
(775) 784-6057 ext. 233
Lael Gilbert
Outreach Coordinator
Utah State University
5215 Old Main Hill
Logan, Utah 84322-5215
Email
(435) 797-8455