Researcher:
Steven Ostoja, USGS Western Ecological Research Station, 760-872-3023, [email protected]
Study Dates:
May 2006 to September 2008
SageSTEP Study Plots:
Study Design and Objectives:
This study has been designed in order to understand several aspects of rodent population and community ecology in an ecological restoration context.  Researchers will evaluate pre- and post-restoration treatments on rodent population and community dynamics. The rodent communities will be evaluated in three ecological restoration treatment types: (1) control, (2) prescribed fire, and (3) mechanical vegetation thinning.  In each treatment type researchers will establish three replicate trapping grids.  Trapping grids will be a 7 x 7 arrangement with 7 m between adjacent traps (n = 147 traps/treatment plot).  Trapping was conducted three times before treatments (2006), and will continue three times per year for two years following the treatments.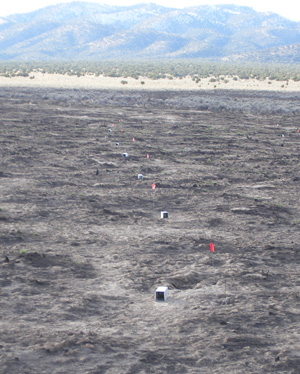 Small mammal traps on the Onaqui burn plot.
Additional information: